Cans of Campbell Soup Co. Campbell's chicken noodle and tomato soup are arranged for a photograph in Washington, D.C., U.S., on Monday, Nov. 19, 2012. Campbell Soup Co. is scheduled to release earnings data on Nov. 20. Photographer: Andrew Harrer/Bloomberg via Getty Images | Bloomberg via Getty Images
Soup has seen better days. After decades of sustained growth, the global soup market contracted in 2009, and then again in 2010. While soup sales have since grown, recent growth has been lukewarm at best. In both 2012 and 2013, the market was essentially flat, growing by less than 1%.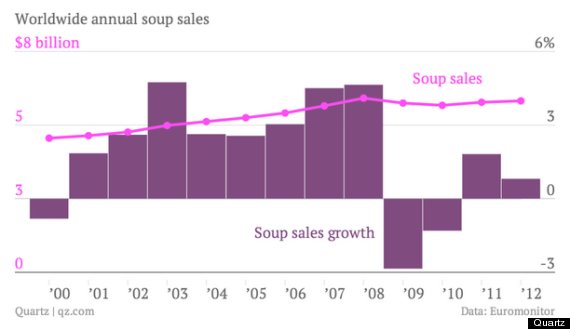 Eating habits in North America, the world's biggest soup consumer, are mostly to blame; the region eats over 70% of the world's canned and preserved soup.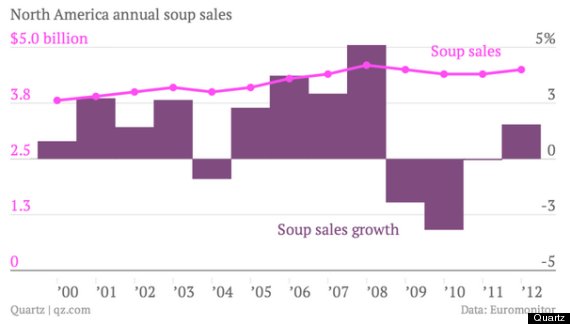 More On Quartz:
--
This is not the year of wearables but the year the hype dies, says Evernote CEO
--
"Bostonian" elitism in China irritates the country's other college grads
--
Zappos is going holacratic: no job titles, no managers, no hierarchy
--
How to give your kids everything but a sense of entitlement
The move away from soup is likely tied to a growing consciousness about the downsides to processed and canned foods—the vast majority of soup is canned, preserved, or both.
And the can appears to be
the least-appreciated part, according to market research group Euromonitor. Not only are cans difficult to open, heavy, and harmful to the environment; they're also perceived to be not fresh. The success of restaurant chains like Panera and Hale and Hearty are proof that it's more the container than the soup that's losing favor.
Campbell's, the world's largest soup-seller, is clearly concerned. "You listen to us talk for years about revitalizing the canned soup business that has long been the heart of our enterprise in North America, and you think we're in denial. The question of the long-term plan for our soup business seems to be a perennial moose on the table," the company's CEO Denise Morrison said in an analyst call in late 2012.
Rather than expanding, tweaking, or rebranding its canned offerings, Campbell's has responded by moving away from its metal container. The company has since launched Campbell's Go,
which it sells in pouches
, or bags, and teamed up with
K-Cup maker Green Mountain Coffee
to expand its soup offerings to single-serving, machine-brewed meals. Revamped soup and non-soup products are the ticket to Campbell's growth; they're expected to account for
14% of the company's sales
in 2014.